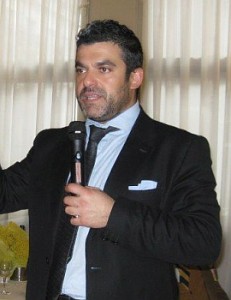 Il dott. Fabio MASSA è un graduato dell'Arma dei Carabinieri.
È Vice Presidente Nazionale dell'Associazione Nazionale Giuristi e Informatici Forensi ANGIF. Ha maturato la sua esperienza decennale nell'ambito delle investigazioni tecnico-scientifiche presso la Sezione Investigazioni Scientifiche del capoluogo Ligure. È esperto in indagini digitali, attualmente svolge il ruolo di consulente tecnico in materia di informatica forense presso il Tribunale di Genova, Chiavari e per le Forze dell'Ordine. Ha conseguito le certificazioni statunitensi presso The American Institute of Forensic Science – Youngsville, NC, in qualità di Evidence Collector Specialist and Crime Scene Tecnology, Drug Identification Analisys (NARKII progressive System of Drug Identification), Ufed Physical pro certified Examiner ( Israelian); Accessdata Certified Examiner and Certified Trainer ACE (USA); BloodStain Pattern Documentation Expert (USA); Forensic Examiner AISF(esperto in Scienze Forensi, criminologia investigativa e criminal profiling); Bloodstain Pattern Analysis advanced Expert (Netherlands); Blasting Insider IRE (Italy).
È docente presso svariati percorsi formativi in materia di Investigazioni Scientifiche e Digitali, partecipa a numerosi seminari e convegni tematici in qualità di relatore. Membro del Centro Studi Informatica Giuridica CSIG, dell'Istituto di Esplosivistica Italiana IRE, membro Istituzionale IISFA, membro IABPA.
---
Articoli pubblicati da Fabio Massa
Lawful Interception per gli Operatori di Tlc